Posts for tag: dentures
By Little Harpeth Children's Dentistry
April 01, 2020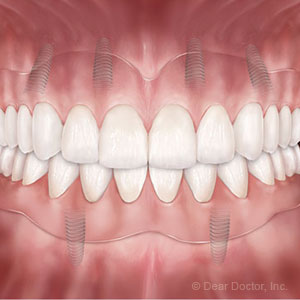 Not long ago, the most affordable option for total tooth loss was a removable denture. Dentures, prosthetic (false) teeth set in gum-colored acrylic plastic bases, can effectively restore function and appearance. But the appliance continues to have one major drawback: it can accelerate bone loss in the jaw.
Like other living tissues, older bone cells die and become absorbed into the body (resorption). Normally they're replaced by newer cells. The forces generated when we chew our food travel through the teeth to stimulate this new growth. This stimulus ends when we lose our teeth, and so cell replacement can slow to an abnormal rate. Eventually, this causes bone loss.
Removable dentures can't provide this stimulation. In fact, the pressure generated as they compress the gums' bony ridges can even accelerate bone loss. That's why over time a denture's fit can become loose and uncomfortable — the bone has shrunk and no longer matches the contours of the dentures.
In recent years, though, a new development has been able to provide greater support to dentures while at the same time slowing or even stopping bone loss. We can now support dentures with dental implants.
Implants are best known as individual tooth replacements: a titanium metal post replaces the root, while a life-like porcelain crown attaches to the post to replace the visible tooth. In addition to providing a longer-lasting alternative to removable dentures, implants provide a very important health benefit: they improve bone density because they mimic the function of natural teeth. Bone cells are naturally attracted to the titanium; they adhere to the titanium post and are stimulated to grow through the action of chewing, increasing bone density and securing the implant's hold in the jaw.
Using the same technology we can support removable dentures, or even full fixed bridges. Rather than rest directly on the bony ridges, a denture can make a secure connection through a coupling system with just a few strategically placed implants. We can also permanently attach a full bridge by fastening it to a few implants with screws.
Not only do we eliminate the pressure from dentures compressing the gums and bone tissue, we can actually stimulate bone growth with the implants. Although more costly upfront than traditional dentures, unlike traditional dentures which must be replaced every five to seven years, long-lasting implants may be more cost-effective over the long-run.
If you would like more information on implant-supported tooth replacement, please contact us or schedule an appointment for a consultation. You can also learn more about this topic by reading the Dear Doctor magazine article "New Teeth in One Day."
By Little Harpeth Children's Dentistry
July 01, 2019
If you've had the misfortune of losing all or most of your teeth (a condition called edentulism), you still have effective options for restoring lost form and function to your mouth. There is, of course, the traditional removable denture that's been the mainstay for edentulism treatment for decades. If you haven't experienced significant bone loss in the jaw, though, a fixed bridge supported by titanium implants could be a better choice.
But what if bone loss has ruled out an implant-supported fixed bridge? There's still another option besides traditional dentures — a removable "overdenture" that fits "over" smaller diameter implants strategically placed in the jaw to support it.
A removable, implant-supported bridge offers a number of advantages for edentulism patients with significant bone loss.
Speech Enhancement. Any denture or bridge supported by implants will have a positive impact on speech ability, especially involving the upper jaw. But patients who've previously worn removable dentures may not see a dramatic difference but will still be able to benefit from the greater stability of the denture, particularly if the dentures were previously unstable.
Hygiene. A removable denture allows better access to implant sites for cleaning. Better hygiene reduces the risk of gum disease and further bone loss.
Long-Term Maintenance. Regardless of which type of implant supported restoration is used, it will eventually require some maintenance. A well-designed removable overdenture can make any future maintenance easier to perform.
Aesthetics. For personal satisfaction, this is often the ultimate test — how will I look? As a product of the evolving art of facial aesthetics, removable dentures supported by implants can replace lost tissues and restore balance to the face, and often produce a remarkable smile "makeover."
To find out which restoration option is best for you, you should first undergo a thorough examination to determine the status of your facial and jaw structures, particularly the amount of bone mass still present. Ultimately, though, the decision should be the one that best fits your functional needs, while fulfilling your desires for your future smile.
If you would like more information on tooth restoration options, please contact us or schedule an appointment for a consultation. You can also learn more about this topic by reading the Dear Doctor magazine article "Fixed vs. Removable: Choosing Between a Removable Bridge and a Fixed Bridge."