Posts for tag: toothpaste
By Little Harpeth Children's Dentistry
September 07, 2021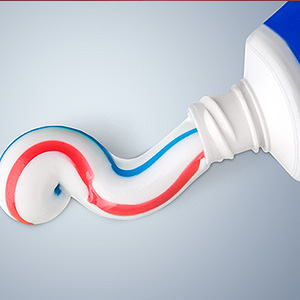 We're all interested in how our toothpaste tastes, how it freshens breath or how it brightens teeth. But those are secondary to its most important function, which is how well our toothpaste helps us remove dental plaque, that thin bacterial film on teeth most responsible for both tooth decay and gum disease.
Daily brushing and flossing clear away dental plaque, resulting in a much lower risk for dental disease. But while the mechanical action of brushing loosens plaque, toothpaste helps complete its removal. It can do this because of two basic ingredients found in nearly every brand of toothpaste.
The first is an abrasive (or polishing agent), a gritty substance that boosts the effectiveness of the brushing action (which, by the way, alleviates the need for harmful aggressive brushing). These substances, usually hydrated silica, hydrated alumina or calcium carbonate, are abrasive enough to loosen plaque, but not enough to damage tooth enamel.
The other ingredient, a detergent, works much the same way as the product you use to wash greasy dishes—it breaks down the parts of plaque that water can't dissolve. The most common, sodium lauryl sulfate, a safe detergent found in other hygiene products, loosens and dissolves plaque so that it can be easily rinsed away.
You'll also find other ingredients to some degree in toothpaste: flavorings, of course, that go a long way toward making the brushing experience more pleasant; humectants to help toothpaste retain moisture; and binders to hold bind all the ingredients together. And many toothpastes also contain fluoride, a naturally-occurring chemical that strengthens tooth enamel.
You may also find additional ingredients in toothpastes that specialize in certain functions like reducing tartar buildup (hardened plaque), easing tooth or gum sensitivity or controlling bacterial growth. Many toothpastes also include whiteners to promote a brighter smile. Your dentist can advise you on what to look for in a toothpaste to meet a specific need.
But your first priority should always be how well your toothpaste helps you keep your teeth and gums healthy. Knowing what's in it can help you choose your toothpaste more wisely.
If you would like more information on oral hygiene products and aids, please contact us or schedule an appointment for a consultation. You can also learn more about this topic by reading the Dear Doctor magazine article "Toothpaste: What's in It?"
By Little Harpeth Children's Dentistry
July 05, 2018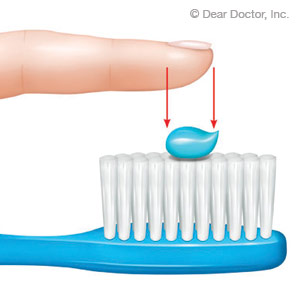 In your search for the right toothpaste, you're inundated with dozens of choices, each promising whiter teeth, fresher breath or fewer cavities. Cutting through the various marketing claims, though, you'll find most toothpaste brands are surprisingly alike, each containing the same basic ingredients. Taken together, these ingredients help toothpaste perform its primary task — removing daily bacterial plaque from tooth surfaces.
Here, then, are some of the ingredients you'll find — or want to find — in toothpaste.
Abrasives. A mild abrasive increases your brushing effectiveness removing sticky food remnants from teeth. And unlike the burnt, crushed eggshells of the ancient Egyptians or the brick dust used by 18th Century Brits, today's toothpaste abrasives — hydrated silica (from sand), calcium carbonate or dicalcium phosphates — are much milder and friendlier to teeth.
Detergents. Some substances in plaque aren't soluble, meaning they won't break down in contact with water. Such substances require a detergent, also known as a surfactant. It performs a similar action as dishwashing or laundry soaps breaking down grease and stains — but the detergents used in toothpaste are much milder so as not to damage teeth or irritate gum tissues. The most common detergent, sodium lauryl sulfate, is gentle but effective for most people. If it does cause you irritation, however, you may want to look for a paste that doesn't contain it.
Fluoride. This proven enamel strengthener has been routinely added to toothpaste since the 1950s, and is regarded as one of the most important defenses against tooth decay. If you're checking ingredients labels, you'll usually find it listed as sodium fluoride, stannous fluoride or sodium monofluorosphosphate (MFP). And since it inhibits bacterial growth, fluoride toothpastes don't require preservative additives.
Humectants, binders and flavoring. Humectants help toothpaste retain moisture, while binders prevent blended ingredients from separating; without them your toothpaste would dry out quickly and require stirring before each use. And, without that sweet (though without added sugar) and normally mint flavoring, you wouldn't find the average toothpaste very tasty.
The ADA Seal of Approval. Although not an ingredient, it's still sound advice to look for it on toothpaste packaging. The seal indicates the product's health claims and benefits are supported by the research standards set by the American Dental Society; and all ADA approved toothpastes will contain fluoride.
If you would like more information on toothpaste and other oral hygiene products, please contact us or schedule an appointment for a consultation. You can also learn more about this topic by reading the Dear Doctor magazine article "Toothpaste: What's in it?"
By Little Harpeth Children's Dentistry
March 12, 2017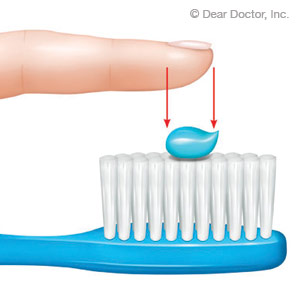 Since the 1950s fluoride has played an important role in the fight against tooth decay as an additive to hygiene products and many public water supplies. But although a proven cavity fighter, some have questioned its safety over the years.
To date, though, the only substantiated health risk from fluoride use is a condition known as enamel fluorosis, which occurs when too much fluoride is ingested during early tooth development as the mineral embeds in the tooth structure. Fluorosis can cause changes in the enamel's appearance, ranging from barely noticeable white streaking to darker visible staining and a pitted texture.
Fluorosis is primarily a cosmetic problem and not a serious health issue. The staining on otherwise sound teeth, however, is permanent and more severe cases may require extensive bleaching treatment to improve appearance. The best strategy is to prevent fluorosis by monitoring and limiting your child's fluoride intake, until about age 9.
Tooth decay is a more serious condition than fluorosis so we're not advocating you eliminate fluoride but that you keep your family's intake within safe levels. The first step is to determine just how much that intake is now, particularly if you drink fluoridated water. If you have public water, you may be able to find its fluoridation level online at apps.nccd.cdc.gov or call the utility directly.
You should also be careful about the amount of toothpaste your child uses to brush their teeth. Children under two need only a trace (a "smear") on the brush, and children between the ages of 2 and 6 a pea-sized amount. And, they should brush no more than twice a day.
Another possible concern is infant formula, especially mixable powder. While the formula itself doesn't contain fluoride, water mixed with it may. If you live in an area with increased fluorosis risk, consider breast-feeding (breast milk has little fluoride), using ready-to-feed formula, or mixing powdered formula with bottled water labeled "de-ionized," "purified," "demineralized" or "distilled."
We'll be glad to help assess your family's current fluoride intake and advise you on making adjustments to bring it into normal ranges. Taking in the right amount of fluoride assures you and your children receive the most benefit and protection from it, while avoiding future smile problems.
If you would like more information on managing your family's fluoride intake, please contact us today to schedule an appointment for a consultation. You can also learn more about this topic by reading the Dear Doctor magazine article "Tooth Development and Infant Formula."