Posts for category: Uncategorized
By Little Harpeth Children's Dentistry
March 14, 2019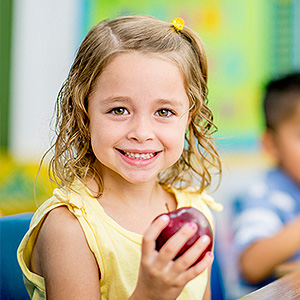 Besides daily hygiene and regular dental visits, the best thing you can do for your kids' dental health is to see that they're eating a nutritious diet. And not just at mealtime—healthy snacking also promotes healthy teeth and gums.
Healthy snack foods are quite similar to their counterparts at mealtime: fresh fruits and vegetables, whole grains and low-fat dairy. At the same time, you should avoid providing processed snacks high in sugar, salt, unhealthy fats and calories.
Managing snack choices at home is usually a simple matter of discipline and follow-through. When they're at school, however, it's a bit trickier as they may encounter snacks sold on school grounds or offered by fellow students that don't meet your definition of a healthy food. Public schools follow nutrition guidelines from the U.S. Department of Agriculture (USDA) on snacks sold on school grounds, but many dentists don't believe the standard goes far enough to protect dental health.
So, what can you do to combat these less healthy snack choices your kids may encounter at school? For one thing, you can work with your child's school officials to exceed the USDA guidelines or turn off snack vending machines right before lunch to lessen kids' temptation to skip lunch.
You can also interact with your children to better manage their schooltime snacking. But rather than issue blanket commands about what they should snack on at school, help them instead understand the difference between nutritional foods and less nutritional ones, and why it's important to choose healthy snacks for their life and health.
Finally, don't send them to school empty-handed—pack along nutritious snacks so that they won't seek out vending machines or their classmates to satisfy the munchies. You can supercharge your efforts with a little creativity (like a dash of cinnamon in a bag of unbuttered popcorn) that make your snacks fun and more enticing than other school ground options.
It's not always easy to keep your kids from unhealthy snack choices. But with a little commitment, interaction and ingenuity, you can help steer them toward snacks that are tooth-friendly.
If you would like more information on boosting your child's dental health, please contact us or schedule an appointment for a consultation. You can also learn more about this topic by reading the Dear Doctor magazine article "Snacking at School: How to Protect Your Child's Teeth and Promote Good Nutrition."
By Little Harpeth Children's Dentistry
September 18, 2018
Most everyone knows that going to see your dentist for regular checkups and cleanings can help save your smile — but did you ever stop to think that it just might save your life?
That's what recently happened to 11-year-old Journee Woodard of Edmond, Oklahoma. The young girl was having a routine teeth cleaning when hygienist Rachel Stroble noticed something unusual: The whites of her eyes (her sclera) had a distinctly yellow tint. Dr. Michael Chandler, Journee's dentist, confirmed the hygienist's suspicions, and advised her mom to take her for further testing. The tests revealed that Journee had a tumor covering parts of her pancreas, gallbladder and liver; it could have ruptured at any moment, with devastating consequences.
The tumor was removed three days later in a 9-hour operation, and Journee is now recovering. As for her dentist, Dr. Chandler told reporters that he and his staff were just doing their jobs thoroughly. "It's hard to feel like I'm a hero," he said (though others might disagree).
Is this a one-in-a-million case? Maybe — yet for many people, a family dentist may be the health care professional who is seen more often than any other. That can put dentists in the unique position of being able to closely monitor not only a person's oral health, but also their overall health.
There are several reasons why that's so. One is that most systemic diseases (such as diabetes, leukemia, and heart disease, for example) can have oral manifestations — that is, symptoms that show up in the mouth. If your dentist notices something unusual, further testing may be recommended. Dentists also regularly screen for diseases specific to the mouth — such as oral cancer, which has a much better chance of being cured when it is caught at an early stage.
But beyond checking for particular diseases, dentists often notice other things that may indicate a health issue. For example, if you complain of dry mouth or snoring, and appear fatigued in the dental chair, your dentist may suspect undiagnosed sleep apnea: a potentially serious condition. Many other signs — such as yellowed eyes, a pounding heart rate, or shortness of breath — can indicate potential problems.
Of course, we're not even mentioning the main reason for regular dental checkups — keeping your smile healthy and bright; for many people that's reason enough. How does Journee's mom feel about keeping dental appointments? "I will never miss another dentist appointment," she told reporters. "I will never reschedule."
If you would like more information about routine dental checkups, please contact us or schedule an appointment. You can learn more by reading the Dear Doctor magazine articles "The Dental Hygiene Visit" and "Good Oral Health Leads to Better Health Overall."